UmMansour_LovedOnes Exhibition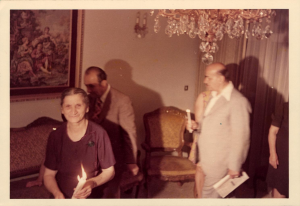 Click To See the Unity View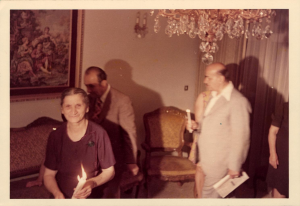 Click To See the 2D View
Text
Wall 1
1) Mary Gholmieh is the wife of Aziz Gholmieh. She was born around 1900. Married in 1920. Died on 1992. She had eight children : Mansour , Jamileh, Akram, Jamil, Najat , Inaam, Issaaf and Georges.
2) Mansour died early in childhood. Akram became a medical doctor at the American University of Beirut and died young by comitting suicide.
3) Issaaf joined the Lebanese Military and married Badiha ElKellaassi. He fathered Ghassan, Ralph and Aziz Gholmieh. Jamileh married Edward Naofal and fathered Naji, Marcel, Alfred, Amal , and Gaby.
4) Georges finished higher studies in Economics and Finances; married to Antoinette Khoury and fathered Bernard and Bernadette.
5) Najat, Jamil and Inaam traveled to Brazil . Najat married Khalil Zouki and had Naji, Jean, and Sou3ad. Jamil married to Izabealla and fathered Alexander.
6) Inaam worked in industry, married Helena and fathered Marcel and Mary Chouhfi.
About UmMansour_LovedOnes
Updated successfully
User name
UmMansour_LovedOnes